Oakland University's Project Upward Bound secures $3.5M renewal grant
After a highly competitive application process, Oakland University's Project Upward Bound (PUB) College Prep Academy has secured a five-year, $3.5 million federal grant that will enable the program to continue its mission of helping participants graduate high school and successfully pursue postsecondary education.
Project Upward Bound participants pictured in Hillcrest Hall. Clockwise from left: peer mentor Tumani Wahhab, scholar Edd Henry IV, scholar Doris Lasuba and peer mentor Shalom Byrd.
OU PUB works with students in grades 8-12 who have demonstrated potential to succeed at the college level. The students attend Metro Detroit schools, including Pontiac High School, International Technology Academy in Pontiac, Pontiac Academy for Excellence High School and Oak Park High School.
To qualify for the grant, OU PUB met extensive criteria, demonstrating need in the geographical areas it serves and detailing ambitious plans to fulfill the program's core objectives: college-eligible GPA, math and English language arts proficiency on the state exam, retention in and graduation from high school, success in a rigorous high school curriculum, postsecondary enrollment and postsecondary completion.
The most recent data from the Michigan Department of Education shows OU PUB's success in helping students enroll in and graduate from postsecondary programs. In 2019, OU PUB participants had a postsecondary enrollment rate of 64%, more than twice the rate of all students at PUB's target schools.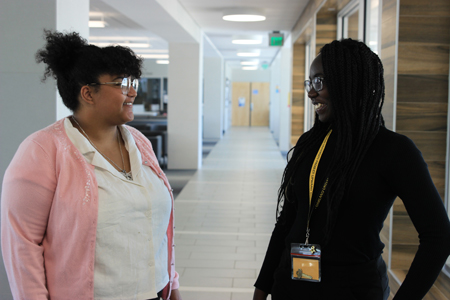 Shalom Byrd and Doris Lasuba
Now in its 56th year, Project Upward is OU's longest-running community outreach program. It has prepared thousands of students for success in higher education and the workforce through academic, cultural, career and social enrichment programs. According to OU PUB Director Geri Graham, these programs remain critical to serving students' needs, particularly in light of the coronavirus pandemic.
"I believe PUB's relevance now equates with its relevance when it was first launched in 1966," said Graham. "Then, as now, equal access to higher education is the focus given society's economic and social inequalities. And the services that PUB offers are the services students need to recover from 'COVID loss.'"
The grant funding enables OU PUB participants to attend an array of enrichment opportunities, including an annual Summer Academy staffed by certified teachers and academic mentors who introduce participants to their next semester's curriculum.
Edd Henry IV and Tumani Wahhab
OU students and PUB alumni serve as peer mentors at the Summer Academy. As Graham explained, one of the criteria for the grant is to "describe how we will achieve the objectives and staff the project with team members who have overcome similar barriers as the population we plan to serve."
Shalom Byrd and Tumani Wahhab are serving as peer mentors at this year's Summer Academy. Both are alumni of OU PUB and believe in the program's power to shape young lives.
Wahhab got involved in Oakland University's Project Upward Bound program going into his sophomore year at Oak Park High School, in 2018. PUB helped him improve his literacy and math skills, and also apply for scholarships to college.
"Being a mentor in Project Upward Bound is truly a blessing," said Wahhab, who attends Central State University (Ohio) on a full scholarship, majoring in exercise science. "As a Project Upward Bound mentor, I provide scholars with guidance, time management skills, and help them enhance themselves as individuals."
Byrd, a criminal justice major at OU, joined the university's PUB program as a ninth-grader at International Technology Academy in Pontiac.
"I immediately realized after joining PUB that I'd be going places," said Byrd. "PUB helped me create a network and prepare for college by establishing good study and financial literacy habits. I was able to take field trips to places I've never been and create friendships."
From left: Tumani Wahhab, Edd Henry IV, PUB Director Geri Graham, Doris Lasuba and Shalom Byrd.
After receiving mentoring and enrichment services from PUB, Byrd now pays it forward by contributing her mentoring skills to Kids Standard, a non-profit empowering youth to improve their future and community with 21st-century skills, and Trinity Christian Academy in Pontiac, in addition to PUB's Summer Academy.
Glenn McIntosh, OU's Senior Vice President for Student Affairs and Chief Diversity Officer, is also an avid supporter of Project Upward Bound, having participated in the Upward Bound program at Wayne State.
"As an Upward Bound alumnus, I am ecstatic about the longevity of the Oakland program and recent successful grant renewal," said McIntosh. "This funding will enable many more students to pursue success in their own lives, while also making a positive impact on the world around them."
OU PUB is funded to serve 133 participants per year. While Graham acknowledges that PUB membership and participation have dipped amid COVID, she says the program is in the process of admitting new participants who will become active in fall 2022. Additionally, PUB leaders are working to integrate lessons learned from the pandemic into standard operations.
"One example is migrating to a hybrid model and evaluating how we can become more flexible in order to be more inclusive of students who no longer want to commit the in-person time typical of our traditional programming," Graham shared.
OU PUB is located in and supported by OU's Division of Student Affairs and Diversity.
Learn more about OU's Project Upward Bound at oakland.edu/upwardbound/.